---
Overview
Meat.ly is a note-taking application for visually recording animals users have eaten. It includes a basic database design for categorizing animals, note storage, and a point/reward system.
There has been an increased interest in the food we eat and where it comes from. Witness foodie culture, the rapid spread of international cuisine into major cities, fusion restaurants and farm to table restaurants. When attempting to record information, most food tracking applications I found lacked focused features or were little better than "text dumps" that do not allow users to visualize that information well. Meat.ly became an application to accomplish this and introduce a fun game system to keep users interested beyond logging meal details.
Services
User Research
Visual Design
Wireframes
Branding
Illustration
Game Design
User Testing



EARLY CONCEPT

Researching potential competitors found a number of similar apps are dedicated to beer, wine, liquor, and healthy eating, but none with a focus on meat, leaving Meat.ly with no direct competitors, though at risk for "app fatigue", where users won't want to log into multiple apps to record different aspects of their meals. My research focused on what would make this app more engaging to use than the others.

Wine collectors and craft beer culture have a number of apps that record social drinking and personal collections, while many health and fitness apps record calories and meal content and allow photo sharing.
I first analyzed these apps to discover the strengths of the content they provided to the user, as well as what information a user would be adding themselves, and providing as content to share with other users. Second, was narrowing down what features my users would want access to and what new features Meat.ly could offer them. To help with the classification, I read into meat cut charts and even identification apps for bird watchers, to get an idea of what I'm collecting and what might be the best way for sorting and storing information.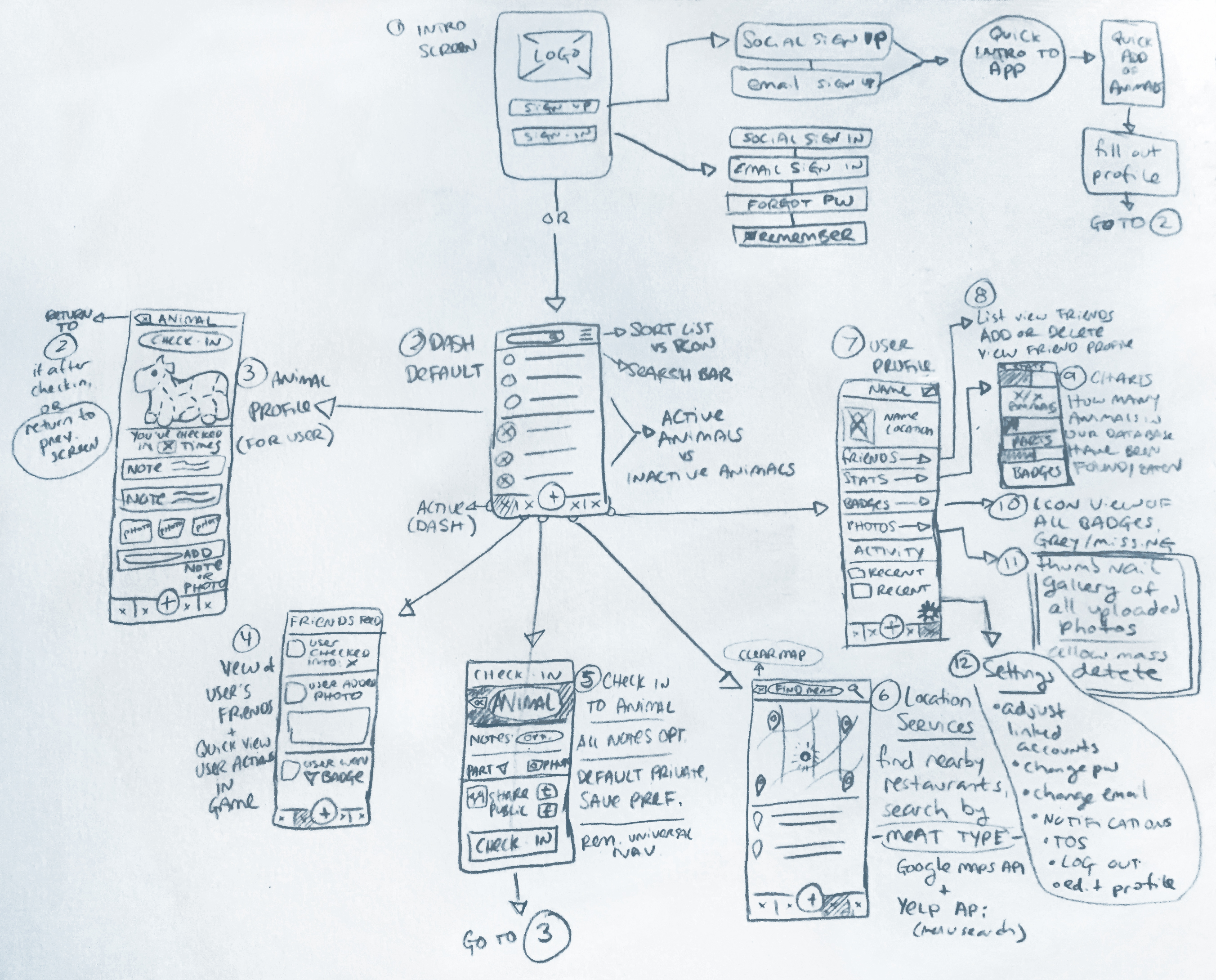 ---
I sketched out an initial flow chart of screens and features I wanted to include. After analyzing user surveys and potential user interviews, I found that many were talking and sharing what they consume on top of tracking information for themselves. Users who sat down for an interview with me also saw some lo-fi wireframes for the screens and requested more graphics and visualizations for the animals.
---
LO-FI DESIGN

Further adjustments were made to the initial sketches, such as improving the adding screen and streamlining the animal profile pages, the wireframes were ready to be made.

---

Text UI

Fast to implement
Notes prioritized
Options compact and easily accessible
Doesn't fulfill desire for visual data
Some options might not be understood why they are there

vs

Visual UI

Easy to reference
Fun to look at
Less chance to catch all options at first glance
Difficulties fitting all the "cuts" into a small object that requires precise tapping
Will users know to tap the meat chart?

---

Single Profile Page

+ Easy to view at a glance
+ Prioritizes new and most important information first
- Only can show the top latest items at a time and requires further navigation to get into sections


vs

Multi Profile Page

+ Allows for larger visuals
+ Maximize viewing and locating notes for each section
- Some miss the top navigation to new sections
- can get overwhelming on each section's first viewing

---

User testing helped determine which screens were preferred, and ultimately used in the final wireframes.
---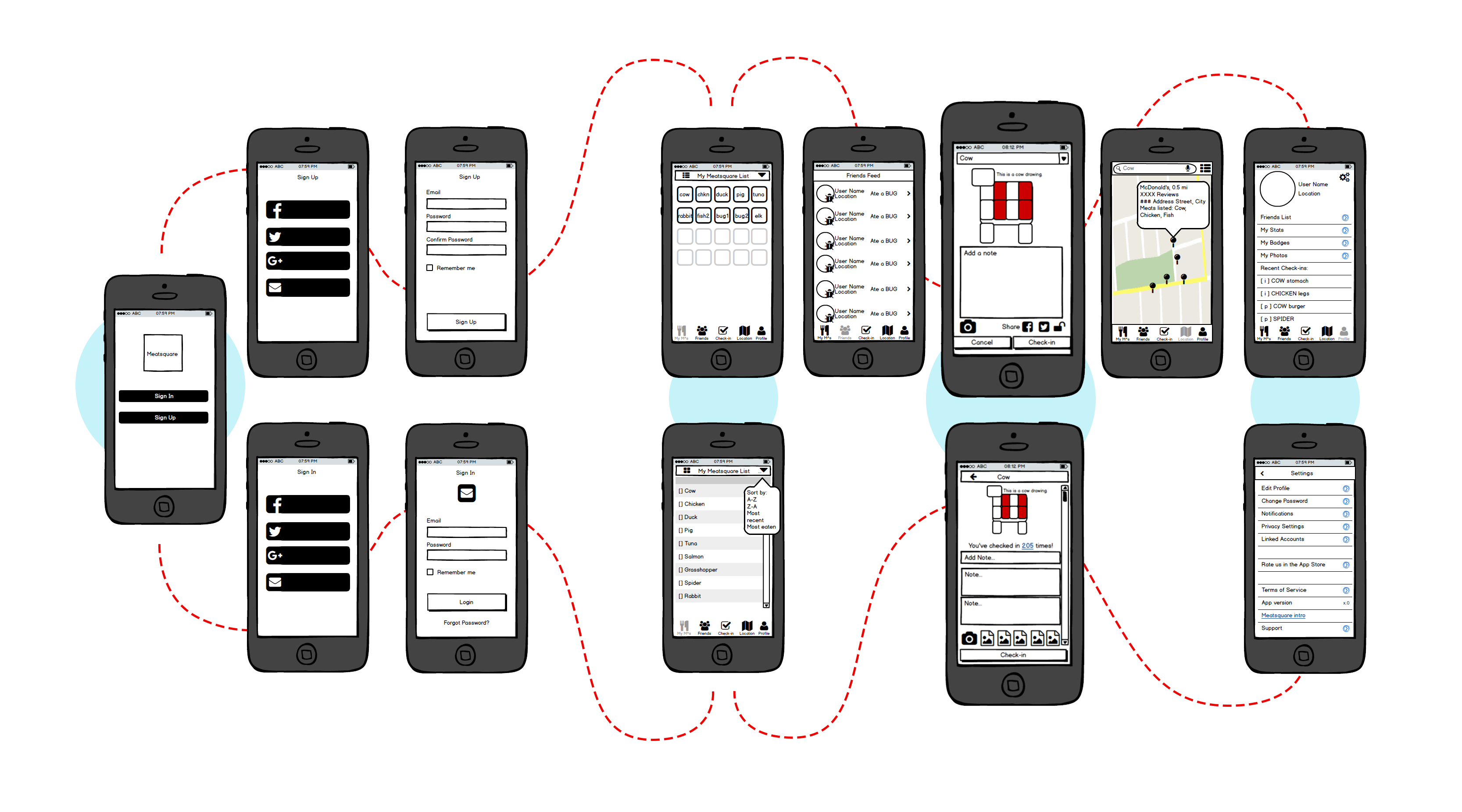 ---
FINAL SCREENS

Adobe Illustrator was used to polish the branding and create high fidelity wireframes for the prototype. There was a slight pivot that changed the original idea of a "restaurant/menu item locator" to strictly focusing on Badges for the first iteration, both to eliminate the time it would take to integrate, and to focus more on the competitive aspect, rather than an exploration one.

---

---

UPDATES

User testing shows a lot of promise for Meat.ly. Criticism led to a greater focus on its gamification, including leaderboard points, competition among friends and rewards for small goals. The original database is updated with new badges, and improved points system for the leaderboards and an internal sharing system for notes, recipes and restaurant locations. Expanding on the inclusion of discovering new restaurants with new dishes to try is a potential new revenue source to look forward to in future versions. Additional requests to cover fruits and vegetables were also fielded, leading to potential expansion of the original Meat.ly app into a suite of apps.

Try out the Invision Prototype for Meat.ly below: